Adapted from "Olive Oil Braised Spring Vegetables" from 101cookbooks.com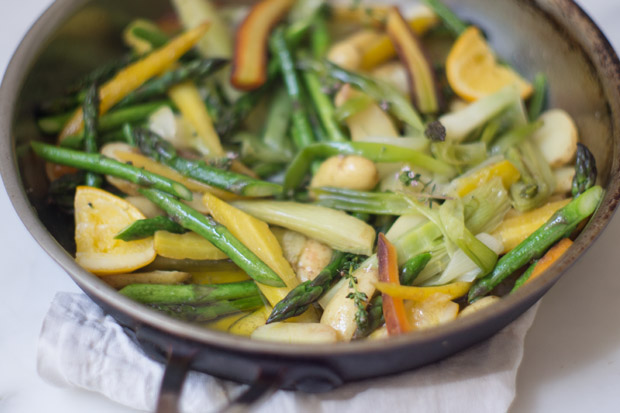 Photo Credit: 101 Cookbooks
YIELDS 4 - 6
PREP TIME: 10 MIN
COOK TIME: 15 MIN
TOTAL TIME: 25 MIN
130 Calories
Ingredients:
1/2 cup Cilantro and Onion Olive Oil
1/4 lb carrots, cut into small pieces
1/4 baby potatoes, cut into small pieces
2 baby fennel, trimmed and quartered
1/2 teaspoons sea salt
6 small spring onions, trimmed
1/2 lb asparagus, cut into segments
1 lemon, deseeded and cut into small wedges
Fresh dill or thyme
Directions:
Add the olive oil to a large skillet over medium-low heat. Add your long-cooking vegetables to the pan (carrots, potatoes, and fennel), along with the salt, and allow to cook for a few minutes. Add the onions, then cover and cook for another 10 - 15 minutes.
Avoid overcooking, you want the vegetables to maintain some bite. A minute or two before you think the carrots and potatoes are cooked, add the asparagus and a few of the lemon wedges to the pan. Cook just until asparagus brightens, and is barely tender. Remove from heat and sprinkle with herbs (dill or thyme). Serve with the remaining lemon wedges to the side.
This recipe can easily be changed up by using different spring vegetables, and can be given various flavors based on the olive oil you use - try Herbes de Provence, Lemon, or even Butter oil too!